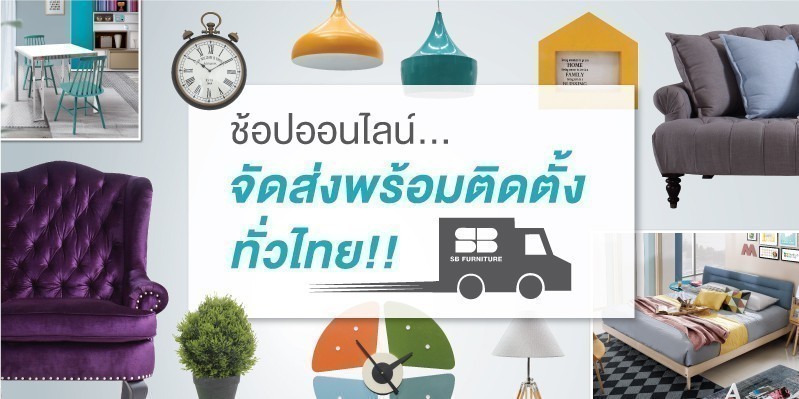 Delivery Policies through Cyber Store Purchase Order www.sbdesignsquare.com
Just simply choose your choice of furniture, feel at ease the rest is our duty from specialists' team of SB to deliver and install at your home.
For the Furniture Products, when you ordered the purchase through Website, we are ready to deliver and install them for you professionally.
Free delivery and installation of furniture, when making a purchase more than Baht 5,000-. If the purchase is under Baht 5,000-, a delivery and installation fee is only Baht 500-
Islands and the three southern border provinces (Pattani, Yala, Narathiwat) are excluded for delivery.
For the delivery date, we will notify you via email or telephone you provided to us when the purchase order and the payment made.
Surplus the more convenient for delivery appointment with the notification calling from our staff remind you before due date.
On due date of delivery, please kindly provide recipient of product and check the product. In case there is no recipient, we have to carry back the product and make new appointment, alongside assign another delivery and installation team again. The cost will start from Baht 1,500- for Bangkok and Vicinity Area, for Upcountry Region Area, the cost calculates based on a distance.
For the delivery of products taking up more than 7 storey building without elevator or not able to use the elevator, there will be an additional charge besides the calculation from the system.
A calculation of delivery and installation by automatic system not including other additional charge.
In case there is a quality product faulty, you can contact us your feedback at Customer Service 02-832-4200 in office working hours or Here (Contact Us). In case you determine to change the delivery date, contact delivery and installation department at 02-832-4300 on Monday till Saturday (Except Holidays) at 8.30-17.00 hrs
For Home Decoration, we are ready to delivery to you domestically in Thailand by delivery fee calculated by automatic system.
You can be certain that your product in Home Decoration is passed quality and packaging inspection in order to be delivered to you efficiently: the delivery service by the expertise company.
Only wait for product receipt and check package container when the product delivered to you.
When you found the package container of product torn or damaged, please immediately inform a delivery staff and you can decline the receipt of product before open the container.
After you open the container and found broken or damaged product, please immediately inform a delivery staff or notify the company within 3 days from the receipt date of product at Customer Service at 02-832-4200 during working hours or Here(Contact Us)
The delivery serviced by delivery company who will take your product and deliver as assign to the designated location, if there is no recipient, we have to charge for the additional next delivery fee from you.
Thank you for entrusting our product to be a part of your happiness space.